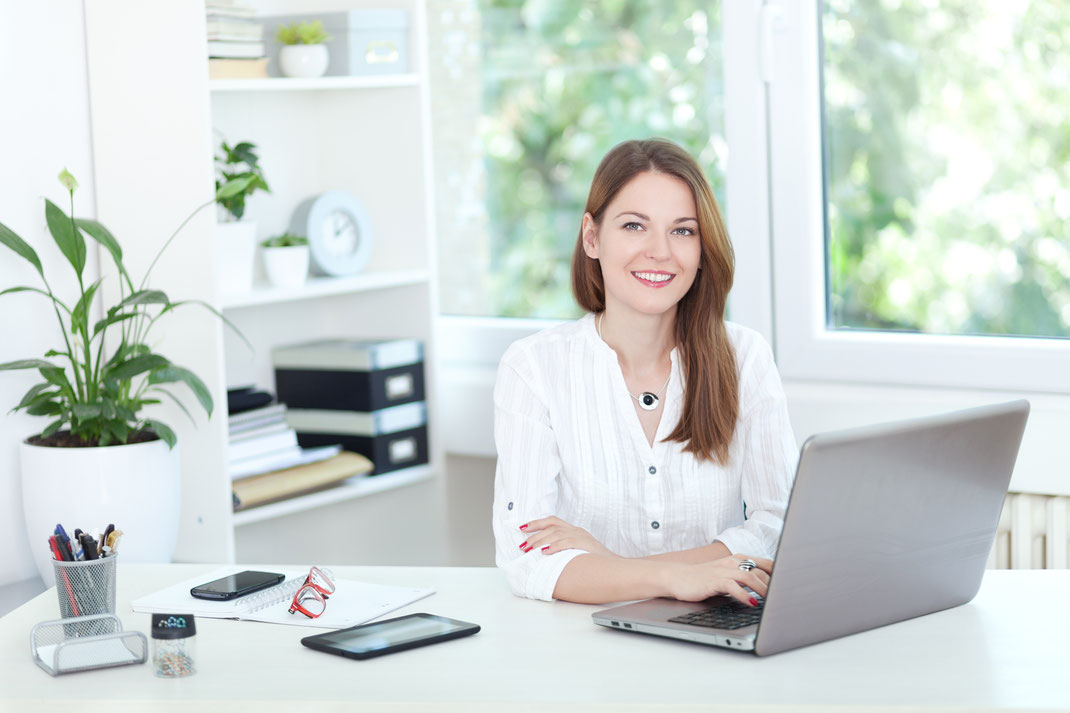 With so many people home for the next few weeks due to the spread of COVID-19, it's the perfect time to get your home office organized.
March is also National Get Ready for Tax Time Month, so it's also a good time to get your home office organized and ready to prepare your taxes.
Your home office is a central part of your life, especially if you own a home-based business. It's where you keep your files, communicate with your staff or clients and keep track of your bookkeeping. Even if you don't work a 9-to-5 job out of your home office, your home office is where you manage your household's most important financial, medical and educational documents.
No matter your office's official use, you can't get much done if it's a cluttered mess. Unless you clean your desk, clear the floor and weed through your filing system with some regularity, you could find yourself lost in a tangle of wires and buried in piles of papers.
If you are stuck at home anyway, now might be a great time to clean, organize and getting a handle on your home office clutter. Here are ten simple tips to help you get started organizing your home office.
Tip #1. Create Your Organizational System
Before you start organizing, take a few minutes to create a system. If you're working in a state of partial or total clutter right now, you need to find a home for everything.
Here are some organizational items you can consider including in your system.      
An inbox where you can put assignments, bills, letters and other paper projects on your to-do list. An inbox is not a permanent storage container; if a piece of paper has been in there more than a couple of days, you need to either take care of it, file it or discard it.
An outbox to store paper after you're finished with it but still needs to be filed.
A file rack to hold current projects
A trash basket, recycling container and shredder
A  filing cabinet 
 Once you have your organizational supplies, it's time to establish your workflow. When a project comes in, start by putting it in your inbox. Within a day or two, move it to your file rack of open projects. After the project is finished, file it in your file cabinet. After you are no longer required to keep the document, move it to it's final resting place – recycling bin or shredder.
Tip #2. Clean Your Desk
Is your desk buried under stacks of paper, rainbow-colored mountains of post-it notes and piles of office supplies? Start with a clean slated. Remove everything from your desk except your computer, printer and office phone (if you still have one).
Use this opportunity to thoroughly clean your desk and vacuum under it. Then, go through everything that was on your desk. Consider how often you use it. Once a week? Once a month? Never? If you didn't use the item at least once in the last week, set it aside. Once you've organized your office you can find new homes for all of the supplies and other items you don't really need. Consider donating any office supplies or other items you don't need.
Tip #3. Set Up a Filing System
Investing in a filing cabinet is a great way to free up space in your home office. Buying a fireproof cabinet that also locks helps ensure your important documents won't get stolen or destroyed. A locked, fireproof cabinet is essential for ultra-important documents, like birth certificates, marriage certificates, passports and car titles. (You can also keep your most important documents in a safety deposit box at your bank.)
To maximize storage space, buy a four-drawer filing cabinet. Make sure your chosen filing cabinet is sturdy; you don't want it to break or fall over onto your foot.
Once you have your cabinet, it's time to set up your filing system. Use hanging folders for your main categories (like client, financial and medical records). Within those folders, subdivide your papers into individual folders.
Come up with a system to organize your files. It can be alphabetical, numerical, color-coded or some other system – whatever works for you. Label every file and put it in its proper place in the filing cabinet so you won't have to go hunting for it when you really need it.
Tip #4. Get Rid of Things
Sometimes it's hard to throw things away even if you should. Take a few minutes to purge your office of everything you no longer need.
Here is a list of things you should toss:
Pens that don't work
Bent paper clips
Unused or broken office equipment (such as old phones, computers, printers, scanners, etc.)
Outdated items
Old tax returns (keep records for 3 years from the date you filed your original return or two years from the date you paid the tax, whichever is later, if you file a claim for credit or refund after you file your return. Keep records for 7 years if you file a claim for a loss form worthless securities or bad debt deduction. (IRS, 2020)
Pay stubs. Keep one year, until you get your W-2.
Investment statements. Keep one year, until your year-end statements arrive.
Bank statements. Keep one year.
Medical bills. Keep one year.
Credit card statements. Keep one month, after you've checked them for accuracy.
Newspapers, magazines, internet print-outs. Discard as soon as you've read them or are finished using them. 
Tip #5: Manage Your Cords and Cables
Do you trip over a snaking mass of wires and cables every time you step into your home office? Having too many cables underfoot is not only a tripping hazard, but it can also pose a fire danger and make your life even more cluttered.
Start by putting away any electronic equipment you either don't use or use infrequently. Use as many wireless devices as you can (mouse, keyboard, printer and ear buds with a microphone) to reduce cable clutter. Another option is a USB hub, which lets you plug several devices in using just one USB cable to your computer.
Plug your remaining cords into a surge-protected power bar to prevent your computer and other equipment from damage due to an electrical storm or power surge.
Bind the remaining cables together with cable ties, clips, Velco wraps or a cable wrap sleeve so they stay in one place and out of your way. Route the wires through the hole in your desk (if your desk has one), against a wall and away from open areas on the floor where someone might trip on them.
Tip #6. Keep Important Accessories Handy
Take some time to think about the tools and office supplies you use regularly. Having to constantly get up to get something you use often can be a huge time waster. Even if your desk is clean to start with, it will quickly become cluttered with things you need. Every time you go get a supply item and then leave it on your desk, you'll be adding to the clutter.
Always keep your most important supplies close at hand. Install a book shelf behind or beside your desk to hold a dictionary and books you know you will refer to often. Put a file folder organizer on your wall  to hold files for current projects.
Fit your top desk with a caddy, tray or other organizer to hold your pens, pencils, rubber bands, paper clips, blank sticky notes and tape. Before you stock your drawer with new office supplies, throw away any supplies you know you won't use and any other "junk" cluttering your drawer. 
Tip #7. Unclutter Your Desk
Here are a few tips for clearing off your desk to give uncluttered space to work.
If you have a desktop computer, put the tower on the floor. You don't need to access it on your desk; it's just taking up valuable space.
If you have an older, mammoth-size monitor, recycle it and buy an inexpensive, lightweight flat-screen monitor.
Use an online back-up system. There are very reasonably-priced cloud back-up services (iDrive Personal is only $3.48 per year for 5TB). This allows you to clear your hard external drive from your desk.
Remove your desk lamp, put a freestanding light next to your desk and aim it at your workspace.
Buy an all-in-one printer, fax machine and scanner and put it on a printer stand in your office to free up room on your desk. I have my printer on top of my file cabinet.. saves space and it's out of the way.
Tip #8. Move Personal Items Off Your Desk
I know how much you adore those cute photos of your family and pets, but does it really need to be in the middle of your desk?
Take everything not directly related to work off your desk, including photos, magazines, greeting cards, awards, plants, coffee mugs and souvenirs. You can still have these items in your office, just in a more remote location.
Have a favorite family photo? Get it framed and hang it on the wall so you can still enjoy looking at it but it won't take up space on your desk. Put your plants in your windowsill, on top your filing cabinet or hang them from hooks in the ceiling. Install a shelf for your awards and souvenirs.
If you must, choose one or two very important (and small) personal items to keep on your desk.
Tip #9. Switch to an Online Calendar
Most people these days use an online calendar system they can access on their smartphone or tablet. By far the most common is Google Calendar, but other options are Outlook (integrates with Google Calendar), Cozi Family Organizer, 30 Boxes and WhichTime.
If you haven't already, go paperless and get rid of those pesky sticky note reminders. Put all your deadlines, meetings, to-do list, appointments and timers on your phone and get rid of your paper to-do lists.
Some people still like the visual layout of a more classic system, like a memo board. Use a magnetic, write-on or calendar style board to record all your important events for the month. Hang it right over your desk and keep it updated.
Tip #10. Organize Your Computer and Digital Files
Your desk and filing cabinet drawers aren't the only parts of your office that need decluttering. Your computer can also benefit from a good spring cleaning. If you keep adding programs and documents to your Downloads folder and hard drive, eventually it's going to get so cluttered you'll never find what you need, or you'll run out of room.
Read more: 7 Steps to Organize Your Computer Documents, Files, Photos and Videos
When you're ready to focus on projects, deadlines and items on your to-do list, a clean, organized workspace will improve your productivity. Getting rid of clutter will help alleviate anxiety too, making it easier to keep your attention on the work at hand.
These 10 home office organizational tips will help you keep clutter from building up and ensure everything stays in place. Whatever organizational system you decide to implement, I hope these ideas will inspire you to organize your home office once and for all. Doing so will make you feel calmer and ready to tackle any project that comes your way.