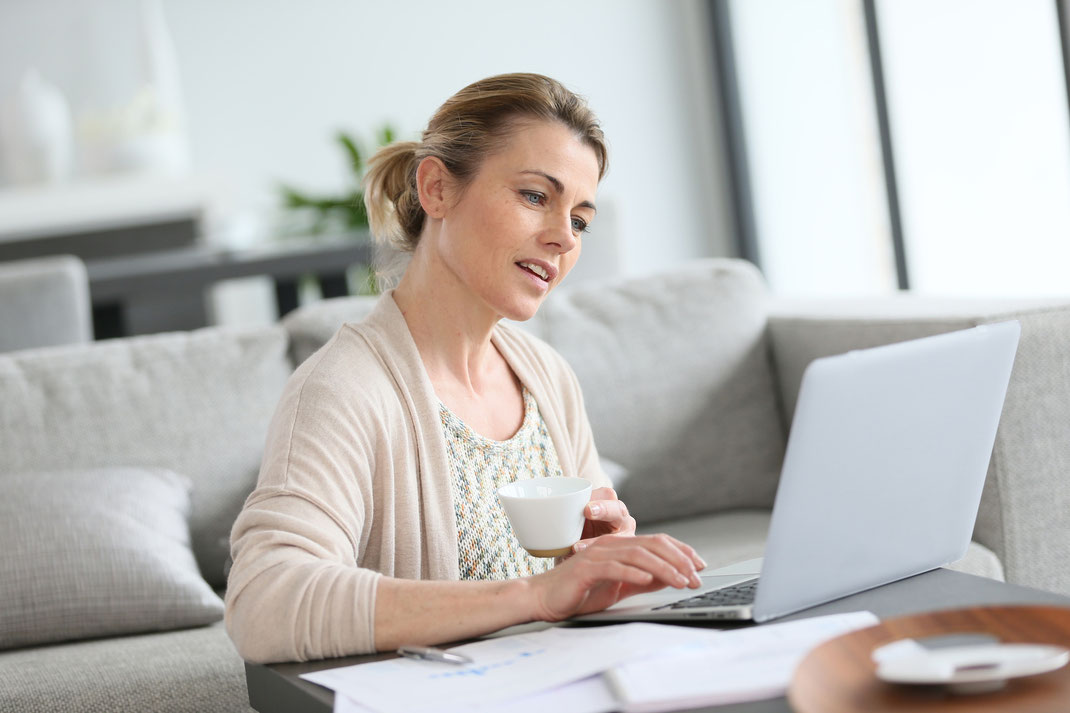 One of the most overlooked aspects of being organized is getting your computer files organized. Keeping your electronic documents, photos and videos organized can be quite a chore in today's digital world. Over time, files and unused programs on your personal computer can clog the memory and slow down your machine. Unorganized files can make it hard to find what you're looking for in a timely manner.
Organization is the Key to Electronic File Management
It's important to keep your files organized and up-to-date. The goal of electronic file management is to ensure you can find what you're looking for, even if it's been years since you last opened a specific file.
Here's how to get your computer files organized.
1. Start by backing up your computer, including all of your files, documents and pictures.
You should be backing up your devices on a regular schedule anyway, but if not, start by making a complete backup. The best storage option is an external portable hard drive. You can also save important documents on a cloud server, like Dropbox, OneDrive or another cloud solution. 
2. Clean out your downloads folder
Your downloads file often becomes a catch-all of files you've downloaded but don't need any more. Go through your folder and delete anything useless. Many computer cleaning programs will empty your recycle bin but won't touch your downloads file. It's best to go through these files manually to ensure you don't accidentally erase something important. 
This is a good time to review your programs and uninstall the ones you no longer use. 
3. Create a filing system
You need to create a filing system that makes sense to you. Set up your folders and subfolders according to category, topic or date. Go through and delete files you no longer need and sort the rest into the correct folder or sub-folder. As you go through your files, be sure to name (or rename) them to a searchable title you will remember. 
4. Organize your digital photos and videos
With the development of technology, it is easier than ever to take lots of pictures with your smart phone, digital camera or tablet. It is easy to take hundreds, if not thousands of photos with just a click. How do you organize all those images?
Start by getting all your photos into one location. Do you have photos on your laptop? Smart phone? Tablet? Memory card in your camera? Choose one location to store your photos (I recommend an external hard drive) and transfer them now. Don't wait.
The next step is to sort and put your photos and videos in folders by year. Sometimes your photos will already be tagged with a date. If so, you can easily sort them by date. Simply copy and paste all the photos from a single year into that year's folder.
If your camera didn't record the date, you will have to do it manually. The easiest way to do this is to sort them by their file name. Whatever device you used will give your photo an alpha-numeric name. You can easily identify the order in which the photos were taken, making it easy to select a large number of photos and paste them into the correct folder.
If you have a lot of photos and videos, it may make sense to sort them by month. Create sub-folders within the year for each month and sort them into the correct sub-folder.
Now you may want to cull the duplicates or not-so-great images. If you're not sure, you can always create an "Extra" folder and put them there, just in case you decide to keep them. This is a step most people skip, but it will save you time in the long run.
At this point you may decide to rename your best photos and videos (the ones you kept in your main folders). If you have a lot of images this may be too large a task. However, once you have them renamed it will be easy to search for the pictures you are looking for. For example, if you have a photo of when you went to Hawaii in 2018, you might want to rename the photo something like this: 2018 – Hawaii – Jenny – John – 01. Why 01 at the end? If you have several photos of Jenny and John on that trip, you just use -02, -03 and so on.
Once you've renamed your photos and videos, you can either use the native search feature of your computer, or download the free software Super Finder XT.
Alternatively, if you have too many photos and videos to rename individually, you can opt for a tagging system instead. There are software products you can purchase, such as ACDSee, or you can opt for a free app like Windows Photo Gallery or Apple Photos for macOS. The advantage of these types of apps is that you can tag several photos at once.
Now that you're done with the hard work of sorting your photos, the last thing you want is to lose them to a hard drive failure. Now it's time to run a complete backup. I suggest you back them up on your external hard drive and then on SD cards. SD cards are easy to place in a fire-proof safe or your safety deposit box. Here's how to choose the right SD card for your needs. You can organize your SD cards by year or several years, depending on how many photos you want to save. 
5. Defrag your computer
Defragging your computer is a simple process. Basically, defragging picks up all the fragments of data and puts them together, freeing up space and allowing your computer to run faster. Consider using a third-party defragmenter, like Auslogics Disc Defrag. These types of programs work much faster and save wear and tear on your computer. Before you run the defragment program, run the built-in disk clean up and Scandisk. Then make your back up before running the defragmenter. 
6. Clean out your inbox
Now it's time to tackle your inbox. Consider setting up folders for emails you want to save. Be sure to check your spam folder too. Set up filters that will ensure important emails stand out, and push junk to folders until you have time to deal with them.
7. Set up automatic back up
If you haven't already, configure automatic back ups using your computer's utilities. Windows 10 offers Backup and Restore and Time Machine is built into macOS. There are also third-party apps and cloud solutions you can install for either operating system.
Keeping your computer files organized will make it much easier to find what you're looking for when you need it. Organizational systems save you time and increase your reliability and efficiency. Often, you don't feel the pain of a disorganized system until you can't find a document or picture you need. Take the time to get your computer files and photos organized and lower your stress level, increase your productivity and stop wasting time looking for misplaced files.
What system do you use for organizing your computer files? What tips do you have for other readers? Please share in the comments below…