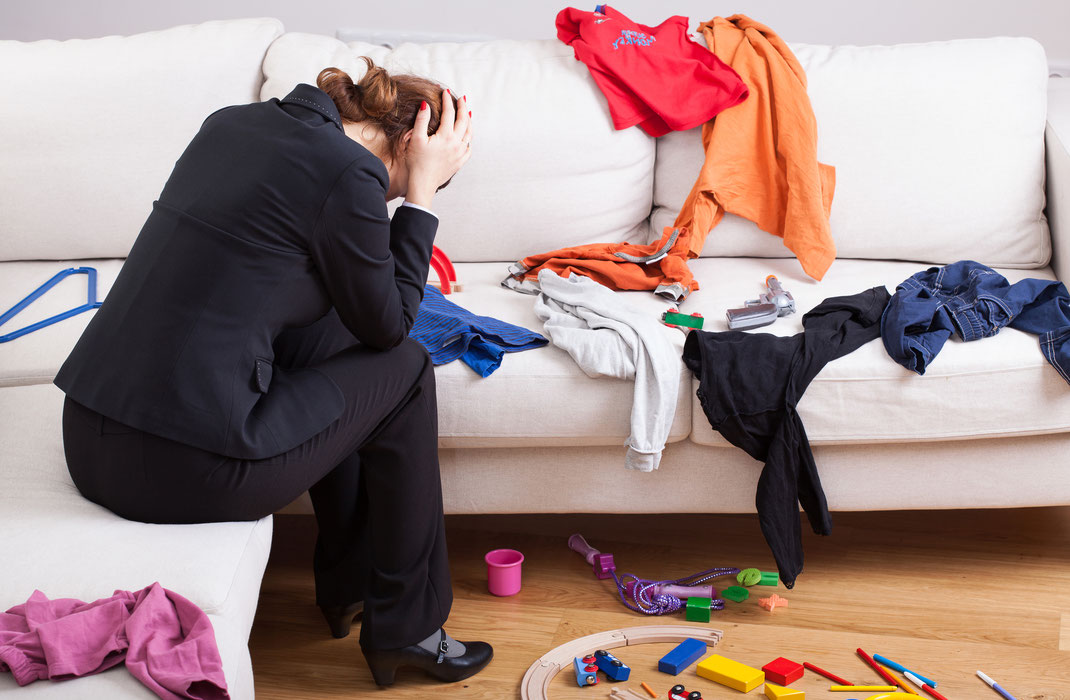 Is your house always a mess? Chances are you have a clutter problem.
A cluttered home makes us feel out of control and can lead to depression. That's right, clutter and depression are linked. When clutter is weighing us down with unmade beds, messy drawers and closets and dirty dishes in the sink, it makes us feel mentally cluttered. When our homes look and feel messy, our emotions feel messy too. 
Researchers at UCLA conducted a study called "Life at Home in the Twenty-First Century: 32 Families Open Their Doors". The researchers found that home and garage clutter cause stress. As a matter of fact, they found that clutter is such an overwhelming problem that it elevates stress hormone levels, especially in mothers.
If you're someone who has clutter challenges, decluttering and organizing can be an overwhelming task. It can be time-consuming to sort through everything, decide what to keep, what to give to charity and what to throw away. And, while it can be deeply satisfying to get rid of the clutter, sometimes going through things can bring up a number of different emotions. Knowing what to expect can ultimately make the process easier.
Here are 9 reasons people tend to collect clutter and effective solutions to help you eliminate clutter for good.
1. Sentimental value
People tend to think that they need to keep an item because it has sentimental value. Childhood treasures, old books, travel souvenirs, baby clothes and children's artwork are some of the hardest things to part with.
If you have space for the item and can access it often to enjoy the memories it evokes, then it's not clutter. Instead, this object is loved and there is space for it in your house.
The real problem emerges when you have too many things that have sentimental value, all competing for space and attention. If that is the case, then you have to make some tough decisions about what is most special to you because, realistically, you only have so much room and time to enjoy objects.
One strategy you can use to remember sentimental items, and the memories that go along with it, is to take a digital picture of the item. From there, you will want to set up folders, sort and file your photos in appropriate folders. In this way, you can always access a picture of the sentimental item and the memories that go along with it.
Other strategies include finding an online company that will take a photo of each item and bind them up into a book or making a quilt out of baby / children's clothes. Sometimes you have to get creative about how you will save the memories without saving too many items.
2. Fear you might need it someday
Fear can cause you to hold on to unused items because you think you might need it someday. But these items no longer have a useful function.
Here are some of the most common items people tend to hang on to even though they no longer use them:
Clothes that don't fit
Clothes that are outdated
Sports equipment you no longer use
Crafting supplies for projects you've abandoned
Extra towels or bedding that may be stained or worn that you'll never use
Excess items can weigh you down and hold you back. Instead of keeping something with the idea you might need it someday, remind yourself you don't need it now and probably won't in the future. Stay focused on your goal to live in a clutter-free home.
One strategy you can use to help you let go of things you don't need is to create an ideabook of photos of your dream home to remind you of why you are decluttering in the first place. This can help you stay focused on your goals.
3. Fear of getting rid of a high-value item
Sometimes people don't want to get rid of an item because they think it might be worth a lot of money. To overcome this fear, look the item up on eBay to gain a realistic sense of the current market value. Usually, people discover they have been overestimating the value of the object.
For items you suspect are truly valuable, such as antiques, consider having them appraised. Once you determine their true value, you may be more willing to part with them, rather than having them take up space in your attic, basement or garage.
4. Guilt about getting rid of a gift or inherited item
Many people experience guilt when thinking about parting with something that was a gift or inherited from a family member. To overcome this emotion, remember that gifts are about someone conveying their feelings about you; you don't have to keep the item to appreciate the relationship you have with them.
Parents can also cause adult children to feel guilt. This can be especially true if it's an inherited item. For example, a parent might give their grown child hand-me-down furniture when they buy a new set. Children may feel guilty for not accepting the free gift. But it's important for everyone to establish their own style and make their own choice.
Family dynamics and guilt can be especially challenging issues when trying to declutter your home. A good professional organizer can help coach you through these types of decisions and keep your focused on your goals.
5. Guilt about your item finding a good home
Sometimes people feel a need to know their belongings will go to a good home and be valued. This is understandable, because we all want our belongs to be used and appreciated.
One way of rethinking this is to recognize that the item is not really being appreciated if it's sitting unused in a storage space. Donating the item will give it a chance to be used and appreciated by someone else.
6. Letting go of the dream an item symbolizes
Another emotional reason people tend to want to keep belongings is the "dream" of something they hope for in the future. For example, someone may not want to get rid of craft supplies because they dream they will someday have the time, desire or talent to complete those projects.
No one likes to admit they haven't accomplished a dream they have, even if it was because they chose to take a different path.
Once you identify this is a source of discomfort when decluttering, you can make a significant breakthrough. You can deal with your emotions and move on, and get rid of the stuff. It can be very freeing to let go of items that no longer fit with your current life plan.
Give yourself permission to let go of past dreams that no longer fit with your life. Let go of the guilt and baggage you may not even realize you're carrying around, and experience the peace of decluttering your home and your life.
7. Guilt because you paid "good" money for an item
Who can blame people for being worried about money? When money is tight, and you're counting every penny, the thought of getting rid of something you bought can hold you back from letting go.
However, the reality is that the money is spent. Keeping the item will not bring the money back. Just because something was important and valuable to us in the past doesn't mean it still is in the present. Keeping clutter around just because we've spent money on it compounds the problem and takes an emotional toll on you.
You need to forgive yourself for past money mistakes and realize that your needs and values change. Once you've accepted this and forgiven yourself, you can get past the emotions you have attached to the items, you can drop the guilt and part with them peacefully.
8. Feeling overwhelmed
This is a really common emotion people have when tackling their clutter. Many people feel overwhelmed and don't know where to start. Others have a hard time getting motivated because they're not sure how to sort their items or make decisions about what to part with. Still others don't know what to do with the items they want to get rid of.
It's especially difficult to declutter a packed garage, storage area or basement. It can be very time-consuming and will make an even bigger mess before items can be sorted and packed away again.
Sometimes people rationalize they are going through a transitional time in their life, such as having a baby, losing or starting a new job, experiencing a financial setback, health issues or any other major change in their life. During these times, we tend to let things pile up because we figure we will get things organized once things "settle down."
One solution to feeling overwhelmed is to break things down into smaller tasks. Don't wait for ideal circumstances. Life is a series of transitions; find simple ways to get things organized even during crazy times. Focus on one thing – like a drawer or a certain shelf. You can make today a little better by taking a few minutes to declutter and organize a small area.
For a very major project like cleaning out a basement, attic, garage or storage unit, consider hiring a professional organizer to help you out.
9. Paralysis from perfectionism
Another emotion that can cause feelings of being overwhelmed is perfectionism. Perfectionism can paralyze us. Even when we recognize we have clutter, we don't feel like we can deal with it perfectly, so we do nothing. Maybe we don't feel we have the perfect organization system yet, or we don't have time to clean out the entire basement. Maybe we just can't decide what is the most important thing to do first.
The solution to perfectionism is to remind yourself the decluttering process doesn't have to be perfect; it just needs to be better than it was. You may not have time to clean out a whole room, but you can spend 15 minutes a day cleaning up or reorganizing a counter or tabletop.
If you are overwhelmed thinking about the clutter in your house, remember the time you spend worrying about your mess causes you stress and time that should be spent living your life. Once you are able to free yourself from extra physical things, you can let go and have more time to enjoy your life.
Your home should be a place of peace and relaxation, a sanctuary away from the stress of the world. Decluttering and organizing your home means you can walk into a fresh, sunlit home that feels welcoming and inviting. Living in an organized space will bring joy, a sense of renewal and calmness.
If you live in the Pikes Peak (Colorado) area and would like help decluttering your space, consider calling Simply Put at 719-377-3000. We'd love to help you let go of the physical and emotional clutter that is holding you back from living your ideal life and get you on your path to peace and happiness.
Did we miss anything? Do you have other emotions that are chaining you to clutter that are not listed above? Please share in the comments below.
-------------------------------
Source:
Arnold, Jeanne E., and Elinor Ochs. "Life at Home in the Twenty-First Century: 32 Families Open Their Doors." Amazon, UCLA, 12 July 2012, www.amazon.com/dp/1931745617.